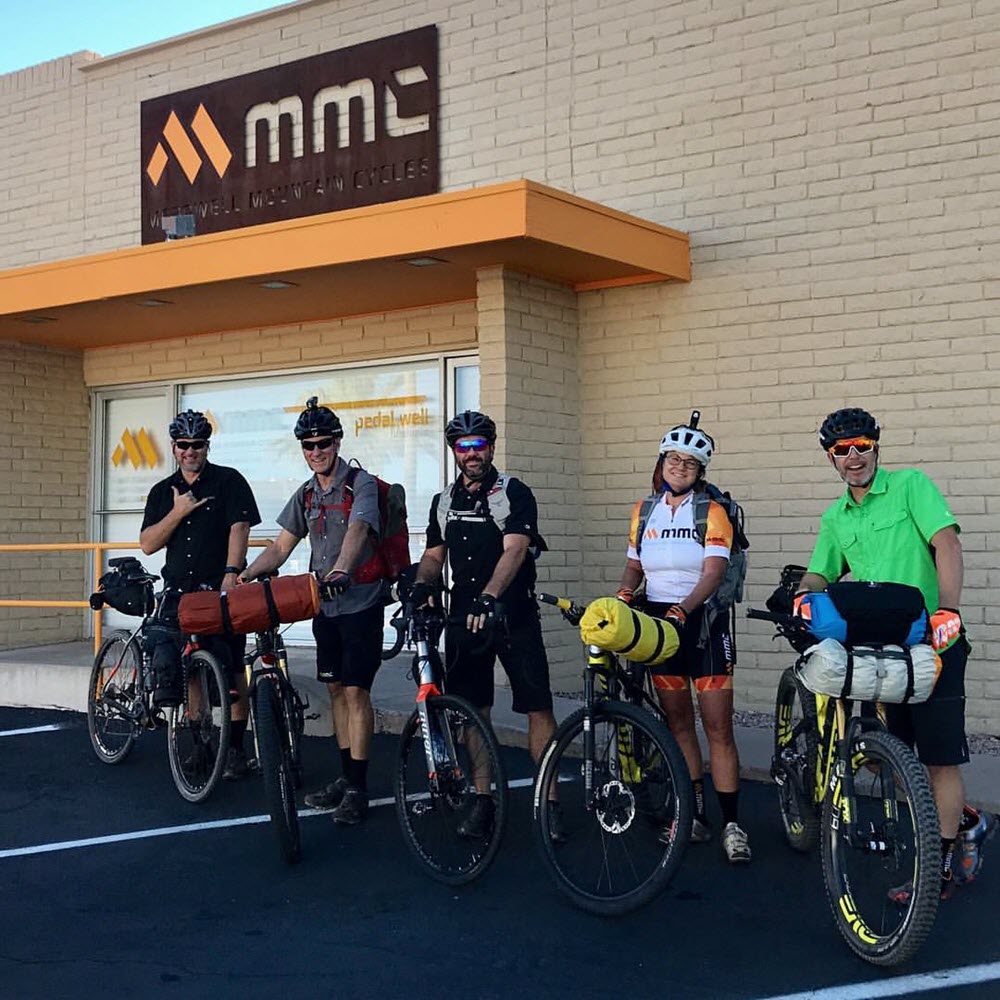 Remember pitching a tent and camping in your back yard? I remember it well. I remember that, although our sliding glass door was 24 feet away, when it got dark there was still a sense of adventure. I remember feeling a million miles from home even though I was right there.
Recently, this was exactly what I needed. I had been cooped up for a couple of months with mono and fatigue issues and needed to get out for a night. I didn't have the fitness or, to be honest, the inclination for a grand adventure, but I wanted to be out of my four walls for one night. I suggested to the boys at the shop and we did some recon. They ended up finding a cool spot on the Verde River no further than 17 miles from the shop. Perfect!
I had gotten a new mountain bike, a Niner Jet 9 RDO with 27.5 Plus wheels, which meant I had to dial in my bike packing gear for my new ride. For me, that always amps up my anticipation for the trip and as the day grew closer, our little excursion began to feel more epic than it was.
On Saturday, we met at the shop, the boys closed up and we rolled out. I may have had a preride beer. Riding through town, it felt great knowing we weren't coming back until the next day. We could've ridden straight to the river, but we decided to hit a few trails in McDowell Mountain Park to add to the adventure. The runners participating in the Aravaipa event in the Park did double-takes as we passed.
Getting to the river at sundown was exciting. It was really flowing and we could see where it had run a full ten feet above our campsite. So nice to see real moving water in the desert. We made camp, purified some water and settled in to make some dinner as the daylight faded slowly. We told stories and watched satellites and all agreed we were lucky to be able to ride such a short distance and feel so far away. From my tent, the stars seemed to multiply and I nodded off.
The next morning, we made coffee and breakfast and leisurely packed up. Riding home was a relaxed affair and I felt so refreshed having been away for only a night. I could tell the stories of the Mexican Discotheque, the Verde River Monster, the Coffee Volcano, the Missing Sock or Nathan's Motivational Speech, but what happens at camp stays at camp. You'll just have to join us on the next one…
Brent