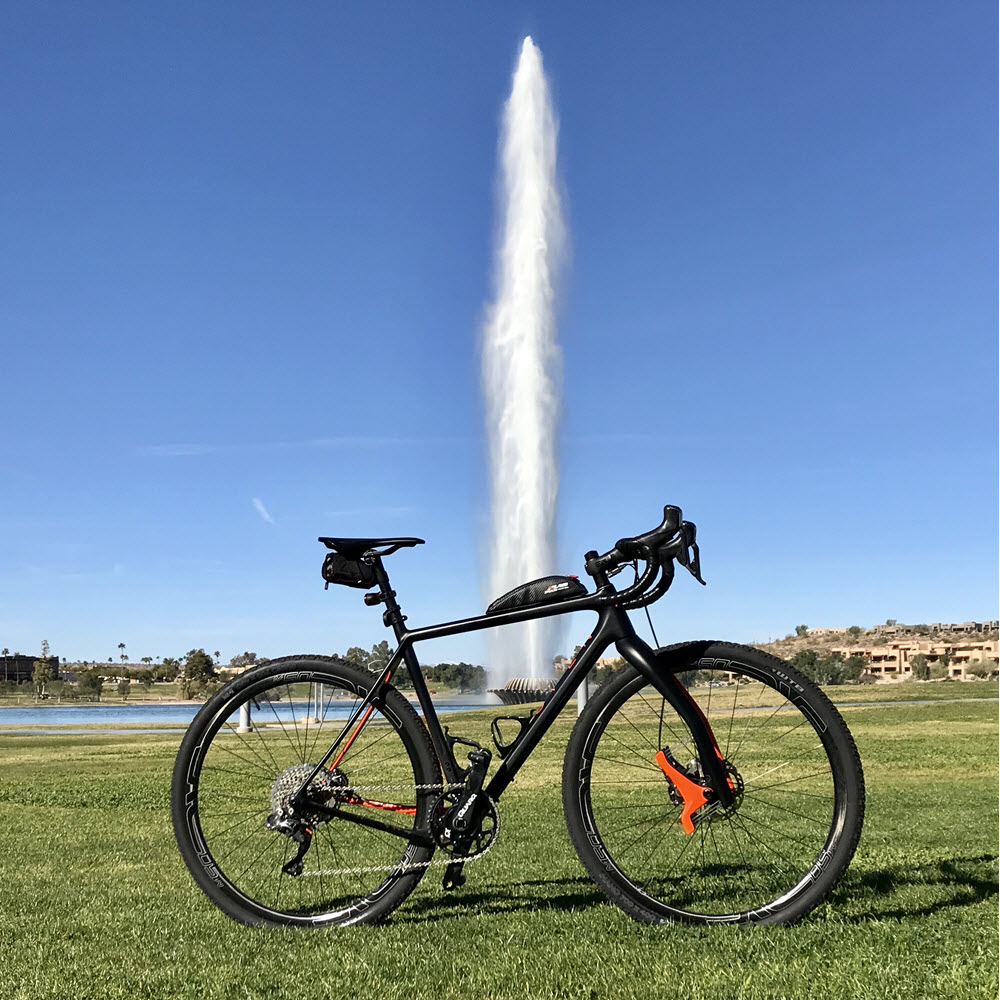 A few years ago, I was introduced to a strange looking fork designed by some guys from Reykjavik, Iceland. It was billed as a light weight, no maintenance, minimal travel fork that would work great on my gravel bike. Not one to overlook something new and different, I wrote Gudberg Bjornsson at Lauf Forks and had a Lauf Grit Fork on it's way to Arizona. Since that time, I have had two different Lauf forks on three different bikes.  I have seen more and more of them at races around the country and my favorite gravel race, The Chino Grinder, is sponsored by Lauf Forks. AND, McDowell Mountain Cycles is now one of a few dealers in the United States not only for the Lauf forks, but also for the newly released Lauf True Grit Gravel bikes.
Lauf was founded in 2010 when two Icelandic buddies, BenediktSkulason, an R&D engineer and GudbergBjornsson, an industrial designer got together and developed a revolutionary twist to the well known and proven "leaf spring suspension" concept. Benedikt and Gudberg were able to combine modern high performance composite materials with their engineering and bike racing backgrounds and developed the first Lauf fork.  Since that time, their forks have reached the mountain, fat/snow, and gravel bike communities and their popularity continues to grow.
When I met Gudberg at the Dirty Kanza200 mile gravel race last summer, I didn't realize that we would soon be doing more than just talking about our experiences with gravel racing and the Lauf fork. A few months after the DK200, he asked me my thoughts on being a dealer for a new bike they had been developing that they hoped would be the "ultimate gravel bike". As a Lauf fork fan and big-time gravel bike fan, I was anxious to see what these guys were up to.  Soon afterwards, we received a Lauf True Grit gravel bike to check out and demo ride.  We were "sold". The new True Grit was super light, super comfortable, had a wide range of fit and tire options and utilized the newly designed Lauf Grit fork as its top feature. AND, it was available in three build models and affordable compared to many other gravel bikes on the market.
So, to make a long story a bit shorter, we were excited to become a Lauf dealer and add the Lauf True Grit to our already stellar selection of gravel bikes.  I would encourage anyone interested in gravel riding to check out the Lauf True Grit bike. We have demo bikes available at MMC as well as a limited number of True Grits for sale.  Join us on one of our Sunday FunDay gravel rides and you will see the Lauf Fork and Lauf True Grit bike in action.  In fact, you might even see Gudberg on one of our January rides. I showed him a little of our Arizona gravel back in November and he promised to be back in a couple months. We will include a link to Lauf with this blog as well for your info. These are funproducts, fun guys and we all know how much fun gravel riding can be. "Just Ride", Harry.