Fountain Hills Cycling Group Rides, Maps & Events

McDowell Mountain Cycles holds regular weekly group rides, clinics, and events in Fountain Hills, AZ.  Check here for details on upcoming events and information about Fountain Hills biking. This page is updated frequently!
Fountain Hills Cycling Weekly Group Rides
MMC's Saturday Road Ride
Sat.
7:00 AM NEW START TIME

– From Starbucks (map)

Come ride our roads with us every Saturday morning! We roll from Starbucks on Palisades and finish back at Starbucks for coffee and snacks. Rides are typically 40-50 miles, with shorter options available.

As always, bring a helmet, flat-fixing stuff, and a smile and let's have some fun on bikes!
Tuesday Night MTB Ride – "TNR"
Tues.
7:00 PM NEW START TIME

– McDowell Mountain Park – Four Peaks Trailhead (map)

This is an all-ability night mountain bike ride that's become a staple of our area.

We ride varied terrain and because our trails out here are so extensive, each week is a little different. Bottom line here: if you want to go fast, you'll have someone to chase or follow and if you want to go slow, you'll have someone who'll gladly tag along. No one rides alone!
Roll at 7:00 pm from the Four Peaks lot across the road from the Competition Loops in McDowell Mountain Park. The best part is saved for last, where we break into our BYOB stashes and generally behave like mountain bikers. Helmets, lights, smiles, willingness to try mandatory!
Wednesday Women's MTB Ride
Weds. 7:00 PM – McDowell Mountain Park – Competition Loops Lot (map)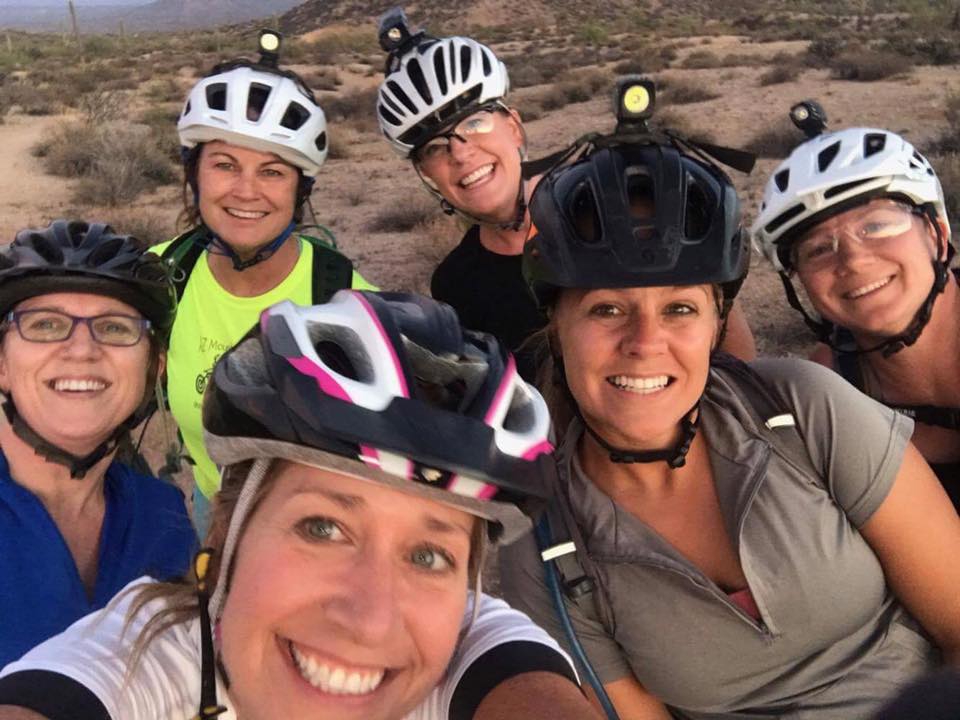 This is a LADIES ONLY ride 🙂 All abilities welcome. Bring a snack to share because afterwards we crack open a bottle of wine and relax a bit! If you're new to mountain biking, or interested in trying it out this is a great ride with a small group of fun ladies to help you.
Need a bike or light? Stop by the shop beforehand and we can help you out.
Sunday Fun Day Gravel Adventure Ride (seasonal)
Sun. 12:00 PM – Location varies
This ride is a combination of park roads, trails and gravel/dirt roads around Fountain Hills and Rio Verde. CASUAL and FUN pace for all. Gravel or mountain bikes. Check in with the shop for details.
Clinics
Some Saturday mornings we hold a skills clinic to learn how to ride in a group. This is where you come to learn the right way to ride in a group, where you're expected to make mistakes.
Instead of trying to get a workout in or trying to drop the others, we start with a chalk-talk about the etiquette and skills required and then we head out for an easy ride where we practice different pace lines and other skills.
We learn, we make mistakes, we have fun and then drink coffee and chat. Even our fastest riders learn something new here. Bring a helmet, flat-fixing gear and a willingness to learn and we'll see you then.
We also hold periodic Bike Maintenance Clinics at the bike shop, so stay tuned for our next one!
Upcoming Events & Races
Maps
McDowell Mountain Regional Park (Download PDF Map)
Fountain Hills & Connecting Trails